Archive for January, 2009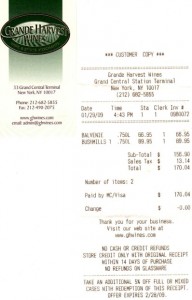 I just love the feeling of being taken advantage of. The store in question is 'Grande Harvest Wines' situated within Grand Central Terminal in New York City. I was in a rush to get home and stopped into the liquor store in question to pick up a couple of items and save some time driving around when I got home. I picked up a bottle of 'Balvenie Double Wood Scotch' and a bottle of 'Bushmills 16yr Single Malt Irish Whiskey'. When I was rung up I thought the price was really off and inquired about the pricing on the individual bottles. The bottle of Balvenie was $66.95 which I thought was really off since I buy this regularly elsewhere. I chalked it up to my mind playing tricks with me and I figured it was only a couple of dollars off. The price kept nagging at me all the way home, so I stopped at a local liquor store anyway. To my amazement the Balvenie bottle was priced at $49.95, thats a 30% markup. I then looked up the pricing online and found stores in close proximity to 'Grande Harvest Wines' with the same lower pricing and the bottle of 'Bushmills' going for 68.94. So it looks like they charge a 30% markup across the board compared to other local retailers. I could have walked 2 blocks from Grand Central and saved nearly $40.00. Is that worth the convenience, hell no. I guess they are relying on people in a rush or not know their pricing, so they can get over on them. This was enough to warrant a call to the manager to ask for explanation. When I informed the individual who answered about the huge discrepancy in pricing to his nearby competition. I was basically told that's our price and we won't do anything about it. I then politely told him it would be the last time I would ever shop there. The next time you happen to be in Grand Central and need to purchase a bottle of liquor, wine or champagne, I would avoid 'Grande Harvest Wines' unless you like giving money away. If that is the case just give it to me. 🙂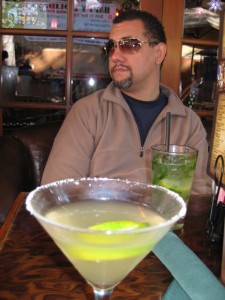 It's been a while since I posted here and it is long overdue. I usually travel to California for the holidays to visit with family and unwind from a year's worth of stress. To do this I have to make sure I have everything in place to handle an emergency should something go very wrong with a client's network. This chews up a lot of my time starting about a month before I leave, thus the long hiatus.
So, how was my year? In a nutshell, hectic, painful and lighter. I work very long hours both on site and remotely from my home-office. I am fortunate enough to have all of my clients configured so that I can basically do about anything I need to do on servers and workstations remotely as if I were physically there. It's a blessing and a curse at the same time, working remotely like that makes it difficult to shift from work time to my time or family time. But it helps when your 3,000 miles away and the proverbial crap hits the fan, as it did this last vacation. It interfered with my vacation but at least my family understood this is my business and I need to make sure my clients are happy. Luckily my clients understood the sacrifices I made over the holidays to service their problems and appreciate what I do for them even more.
Painful? Those of you who know me, know I live with constant back pain. I was seeing a pain management person to deal with the pain which involved pain killers and shots to my spine. I am now in the care of a Neurosurgeon that has me still taking pain killers but also seeing a physical therapist. The physical therapy should help but I didn't get a chance to go much since it was right smack in the middle of my preparations for the holidays.