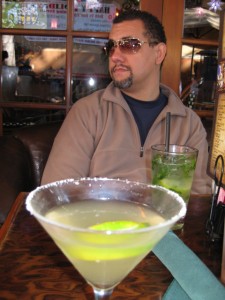 It's been a while since I posted here and it is long overdue. I usually travel to California for the holidays to visit with family and unwind from a year's worth of stress. To do this I have to make sure I have everything in place to handle an emergency should something go very wrong with a client's network. This chews up a lot of my time starting about a month before I leave, thus the long hiatus.
So, how was my year? In a nutshell, hectic, painful and lighter. I work very long hours both on site and remotely from my home-office. I am fortunate enough to have all of my clients configured so that I can basically do about anything I need to do on servers and workstations remotely as if I were physically there. It's a blessing and a curse at the same time, working remotely like that makes it difficult to shift from work time to my time or family time. But it helps when your 3,000 miles away and the proverbial crap hits the fan, as it did this last vacation. It interfered with my vacation but at least my family understood this is my business and I need to make sure my clients are happy. Luckily my clients understood the sacrifices I made over the holidays to service their problems and appreciate what I do for them even more.
Painful? Those of you who know me, know I live with constant back pain. I was seeing a pain management person to deal with the pain which involved pain killers and shots to my spine. I am now in the care of a Neurosurgeon that has me still taking pain killers but also seeing a physical therapist. The physical therapy should help but I didn't get a chance to go much since it was right smack in the middle of my preparations for the holidays.
Lighter? Yes my year ended with me being much lighter, a 100lbs lighter in fact. I went on a diet to loose a lot of weight in the hopes that it would help with my back. It didn't help my back much but I know in the grand scheme of things it has helped my overall health. It also caused me to donate all my clothing and buy a new wardrobe. For those curious on how I lost that much weight in 3 months, I was on the 'Take Shape For Life' program.
So where did I go for the holidays? I went to California to visit my Mom and brother. My mother lives up the coast near Pismo Beach and my brother lives in Venice Beach. While I stayed at my Mom's house, my wife and I took day trips to Monterey, Santa Barbara and Solvang. On the last leg of the trip my wife and I checked into Loews Hotel in Santa Monica for three nights. I was pleasantly surprised to find out I had been upgraded to the presidential suite. That was one beautiful suite, with four balconies that had views of the ocean and the Santa Monica Pier, living room, dinning room and a bar. There were flat screens everywhere and the bathroom had a large jacuzzi and a shower that had 8 shower heads. My wife and I were depressed when we checked out.
While in Santa Monica we went to see Pink Martini at the Wall Disney Concert Hall on New Year's Eve where we rang in the New Year together. Several hours later we found  ourselves driving to Pasadena to see the Rose Bowl Parade. It was great to see but I will only be doing that once. It's hard to get up at 4am after partying all night for New Years and have to drive anywhere. Worse yet is to find everything boarded up and having no choice of places to eat. For the next couple of days we just walked along the beach and took in the local shops, restaurants and bars until we left.
All in all it was a great trip, I got a chance to see family and unwind. It also helped to fly first class it gave me a chance to really relax while flying in and out of Los Angeles. I am 6'10" and flying coach is not really an option for me with my legs and my bad back. In first class I really am able to relax and stretch out.
Well now that I am back, I have returned to my hectic schedule and should be posting more frequently again. I will be posting the pictures of my trip shortly on my flickr account.